"Never take your own revenge, beloved, but leave room for the wrath of God, for it is written, 'Vengeance is Mine, I will repay,' says the Lord." – Rom 12:19
Have you ever been wronged or hurt by someone? That is probably a rhetorical question for most of us. It is just a sad fact of life that we have or will be wronged by someone as we go thru life – whether purposefully or accidently. Some have been hurt a little and some have experienced devastating wounds. Regardless of your age or social status, I'm sure you can point to a time where you wanted to settle a score with someone.
I can't tell you that I know and understand the depth of hurt that you are going through or have been through, because I don't. However, God knows your situation and the depths of your wounds. He sent His only Son to earth to save mankind. They turned on Him and spit on Him. Jesus came to save Israel and all of mankind, and they totally rejected Him. They falsely accused and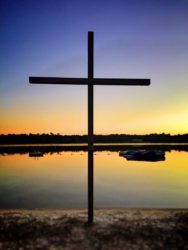 condemned Him.
Don't you think Jesus can sympathize with your hurt and heartaches? Not only did His people reject Him, those who were closest to Him fled and denied Him in His greatest hour of need. Talk about deep hurt.
"Never take your own revenge…" When it says never, I think, just maybe, it means never. Call me crazy for suggesting it, but I'm just taking it literally. God doesn't want us to take matters into our own hands for anything.
You may be thinking "this seems like a weak version of Christianity". So are we just supposed to let people trample over us? Actually, it takes great strength and faith to take God at His word that He will repay. The strength of Christianity lies not in us, but in God's strength.
"…but leave room for the wrath of God, for it is written, 'Vengeance is Mine, I will repay,' says the Lord." Vengeance aka revenge belongs to the Lord. You don't have the right; it's not your place to take revenge. God's got it covered. You may be thinking, "Well if I don't do something, then this person will get away with it. I need to teach them a lesson." Well, excuse me for my bluntness, but ahem… God is God. He is King of kings and Lord of lords. He is all knowing and all powerful. Nothing escapes His notice. Not even the death of a sparrow on the remotest hill. Your grievance doesn't escape His notice either. God cannot lie. That is part of His nature. If He says He will repay, He will repay.
He can be trusted with handling every area of your life – both the small and big things in your life that need to be settled. Can you begin to trust God for that? You may not understand it fully, or you may still have some reservations. But start to tell Him that you want to trust Him with your grievance.
This trust in God's revenge does not only apply to the big things. But, do you trust God in the small things of life – those little irritations throughout your day? Think about all the times throughout an average day that people 'wrong' you – an irritating family member, a difficult coworker, or someone in traffic. Does God really expect us to submit to Him in these things too? YES!
"You have heard that it was said, 'An eye for an eye, and a tooth for a tooth.' But I say to you, do not resist an evil person; but whoever slaps you on your right cheek, turn the other to him also… "You have heard that it was said, 'You shall love your neighbor and hate your enemy.' But I say to you, love your enemies and pray for those who persecute you, so that you may be sons of your Father who is in heaven; for He causes His sun to rise on the evil and the good, and sends rain on the righteous and the unrighteous. For if you love those who love you, what reward do you have?… Therefore you are to be perfect, as your heavenly Father is perfect. – Matthew 5:38-48(NASB)
In this passage, Jesus tells us we are not supposed to take retaliation against our enemy, but we are to love them. We are to follow Jesus' pattern of LOVE. If you haven't already, you will come to realize that such love is impossible. Never taking your own revenge or not getting even with someone goes against our natural instincts. This love is out of this world. You can't do it, but you must! There is only One that can truly love your enemies. And He already did it! Trust in Him to take up your cause and cry out to Jesus to love your enemies through you.
-Nathan M.